Conference trip
The Thursday afternoon of the conference will be devoted to the cultural programme with a trip to Mikulov and wine tasting of famous South Moravian vineyards.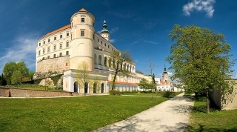 The former Liechtenstein and later Diestrichstein chateau on the rock has been a unique dominant of the Mikulov skyline for centuries. The original governor's castle was donated by Přemysl Otakar II in 1249 to the Liechtenstein family as the fief. In late 16th century the new owners of the seat, the Dietrichstein family, had the chateau reconstructed to the present appearance after the fire in 1719. The chateau burned to the ground in 1945 while retreat of the German army but thanks to the care of The Association for recovery of the chateau Mikulov the difficult repair was done in the 1950's. Chateau library along with the Hall of Ancestors belong to the most interesting sections of the chateau.
Several interesting expositions can be found in the chateau, for example the wine exposition which is nowadays divided into three parts. The first one is the chateau cellar which has the main rarity of the museum - huge wine barrel from 1643, the next part is the traditional viticulture in Moravia and at the end there's a gallery of historic spindle presses.


Svatý kopeček (Holly hill)
Svatý kopeček is another significant natural dominant of Mikulov. For the extensive occurrence of rare plant and animal species the territory has been announced nature reserve. The top of Svatý kopeček is dominated with St. Šebastian pilgrimage church, a belfry and other sacral objects of the Way of the Cross.

Trip to the Volařík Winery
Visit of the Volařík Winery which gained many prizes including Champion prize on Wine markets of Valtice, The King of the Wines and especially the Wine grower of the Year 2011. Most of our vineyards are placed on the warm slopes of the hills of Pavlovské vrchy in the very south of Moravia and are amongst the best-quality viticulture areas in the country. After a short introduction of wine making there will also be tasting of selected samples of local wine.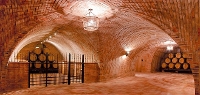 Sitting in the Křížový sklep (Cross cellar) with wine tasting and raut
Sitting will begin with tastig of special wines which will be commented by a sommelier. A warm raut will be prepared for the participants of conference .
We should return to Brno around 24:00.